I love tech. I also love how quickly it evolves. I remember as a child reading science fiction stories and watching movies that got my imagination running, thinking about the possibility of living in the future and having all these gadgets in my smart home to cater to my ever whim. Well that future came sooner than expected because here are six items to turn your home into a sci fi home of the future! (Click on the pictures to be taken to the official shops).
6. Have Your Own Robot Servant With The Roomba by iRobot
The Roomba is an automated cleaning Robot that uses sensors to navigate your Homes floor vacuuming up all the pet hair and dirt that is hiding there, it also docks and recharges itself! With the included app you can schedule it to clean seven times a week or just when you tell it to! It may not be Rosie from the Jetson's  but it sure is close!
5.  Wirelessly Charge Your Phone With Furniture From IKEA
IKEA has been recently dabbling more into tech with gadgets like standing desks and smart light bulbs, and recently released a line of wirelessly Charging Furniture like lamps, night stands and pads that juice up your phone when you place it on the furniture. There are some cons though, mostly for iPhone users who can't take advantage of wireless charging until apple decides they need it, although the furniture does come with an iPhone case that adds this feature, it's bulky and just not the same. Otherwise if you own an Android phone, say hello to your new cordless life!
4. Talk to your house with Amazon's Echo.
Amazon's  Echo is a voice assistant device that goes by the name 'Alexa' . The device can sit anywhere in your house, like a book case or table and can answer any question you throw at it including commands to turn on or off music, schedule plans and can even be paired with other smart devices like Smart Light Bulbs, Smart Outlet Plugs and more! Hopefully it never becomes sentient like they always do in the movies… Worth the risk!
3. Turn Down The Lights With Your Phone Using Philips Hue Connected Bulbs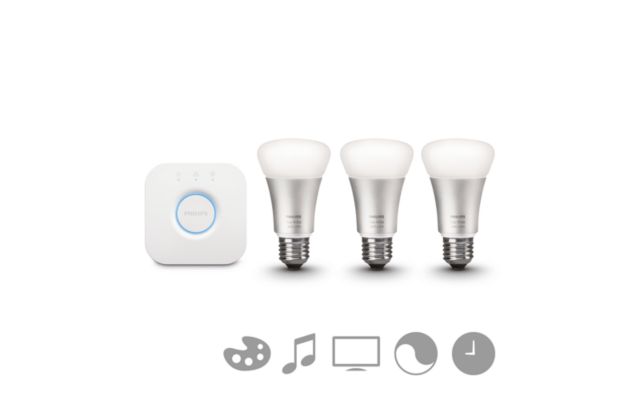 The Philip's Hue Bulbs are wirelessly connected light bulbs that screw directly into your current existing lamps, they can be turned on and off with just your smartphone , you can set the mood by changing the colors and dimming the lights. No more trying to find that awkward lamp switch when your sneaking around in the middle of night trying to find a snack!
2. Control Anything Using Your Phone With Belkin's WeMo Insight Switch
This neat device plugs directly into any power outlet and then you plug any appliance into it, this gives you the ability to control the appliance using your phone or you can automate it to say for example turn on your coffee maker every morning before you wake up!
1. Automate And Wirelessly Control The Temperature With Nest's Learning Thermostat.
Nest's learning Thermostat can automatically turn the heat down when you're not home, it can also be scheduled to heat up for you so your room is nice and warm when you get home, and according to Nest it can even save you an average of 15% on your energy bill! Now that's a smart home device anyone can get behind!
So there you have it, my top current recommended devices to make any home a smart one! There's plenty more then what was listed here and I'm sure there will be much more in the future as well! But for now , put up your feet, relax with a cold one and enjoy the future!